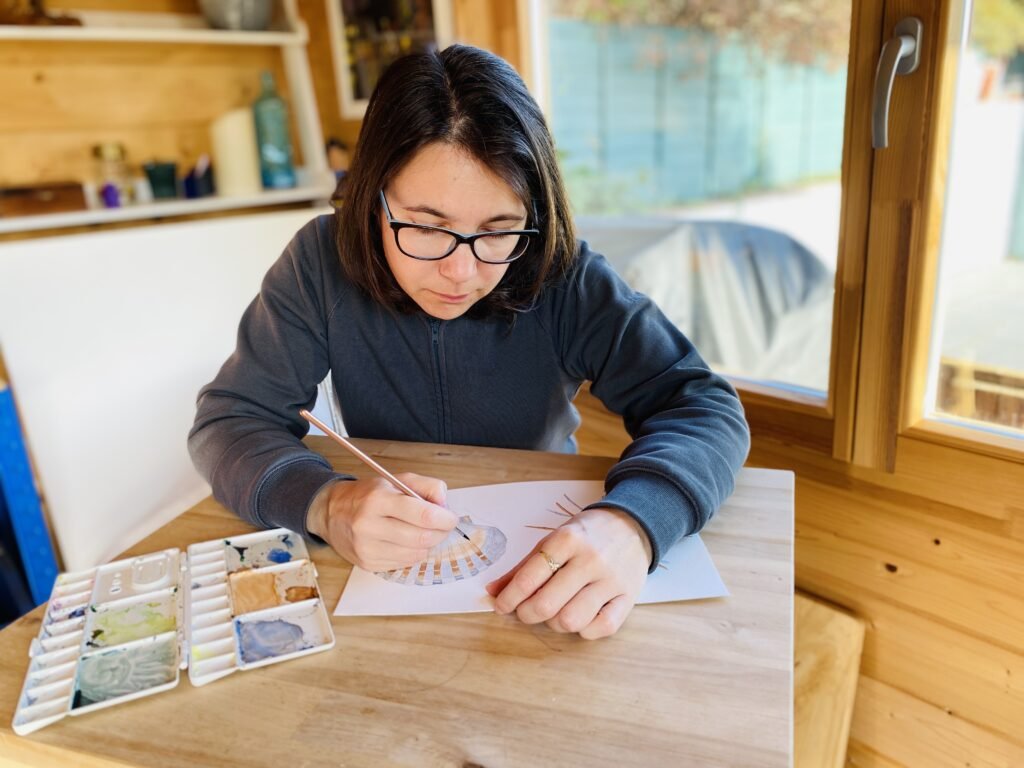 Hello! I'm Andrea, and I regard myself as a self-taught watercolour painter. I've always had a fascination for the arts, but it wasn't until recently that I made a commitment to regularly and consistently create pieces of artwork.
Since coming back to painting in the last few months, I've been dedicating myself to learning as much as I can about this medium, experimenting with new techniques, and beginning to explore my own style.
My love for watercolour painting drives me to create, and I hope to bring a fresh perspective to this art form as I continue to grow and develop as an artist.
On this page, you'll get to know a bit about my journey, my creative process, and the inspirations behind my works.
Although I've had a love for drawing since childhood, I never took it too seriously as I felt I wasn't good enough or that I wasn't worthy of the "artist" label. From the beginning, I was attracted to the idea of creating the illusion of shapes on a two-dimensional surface and loved shading things in. I even had some of my drawings chosen to be exhibited on the school wall art.
I discovered the beauty and magic of watercolours, shortly after moving to England in 1999 when I was introduced to the popular television programme, "Watercolour Challenge". I was so hooked that I immediately wanted to have a go.
Unfortunately due to work commitments and having no clear plan meant that I was only painting in an on-and-off fashion for the next 20 years.
It wasn't until a series of personal crises that I realised how much I needed to be creating art, for its therapeutic and cathartic effects.
I decided to dedicate my spare time to painting and have been exploring the medium ever since. Though my journey with watercolour painting began in an ad hoc manner, with no real structure or plan, in June 2022, I found my flow and have been consistently creating artwork since.
As a self-taught artist, I hope to bring a unique perspective to my work, driven by my passion and desire to express myself through my paintings.
Currently, I am mostly focusing on improving my skills and techniques.
I like painting the natural world, namely animals and botanicals. I believe we owe the planet a lot of respect and I hope to put under the spotlight the importance of the magnificent creatures and plants we share the world with via my artwork.
Some facts about me
I grew up in communist Hungary and moved to England in my early 20s
My family always had a smallholding where we kept pigs, chickens, and cows cultivated various fruit trees and vegetables and even grew tobacco plants for a while
I borrowed my uncle's English language book and started teaching myself at the age of 10 since there were no English classes back then
My primary qualification and career was in accounting, but I much prefer life away from an office environment
I have a degree in environmental studies which I completed with the Open University because I wanted to challenge myself
I suddenly partially lost my hearing on one side a few years ago
I now live with my partner in South West of England by the coast
Other than painting, I like to walk, cycle, do some light weight lifting, and do yoga to exercise
I try to read inspirational books daily and have a soft spot for a good Cornish romance novel.
It is my hope that my art will connect with you and touch your heart. Thank you for being here and reading about me.
Love,
Andrea